Traditions of Hershey News
Traditions of Hershey welcomes President of the PA VA Auxillary!
Traditions of Hershey had the pleasure of giving a tour to VFW Auxiliary Jr. Past Department President Valerie Decorte.
Valerie recently returned from a trip to Phoenix, Arizona, where she attended the 124th VFW National Convention. This important meeting brings together thousands of VFW and Auxiliary delegates to approve new national priorities that will guide the organization as it lobbies Congress on issues important to the nation's veterans, service members, and their families.
She is a lifetime member of the VFW Auxiliary to SPC Ross A. McGinnis Post 2145 through the eligibility of her late husband, Master Sgt. David DeCorte, who honorably served his country in the U.S. Army for 26 years.
Valerie has held many positions within the VFW Auxiliary at the district level, serving as secretary, junior vice president, District 19 president from 2015-2020, and chairman for many national programs.
On June 11, 2022, in Lancaster, she was elected department president at the 98th annual convention of the Veterans of Foreign Wars of the United States Auxiliary Department of Pennsylvania.
Third annual Music Fest at Traditions of Hershey
Traditions of Hershey invites the public to attend its third annual Music Fest on Sunday, Sept. 17, from 12-3 p.m., at 100 N. Larkspur Drive, in Palmyra.
Make it an afternoon to remember—bring the family to enjoy live music, food, and fun! Featured musicians include Clinton Jones and Chris Poje! Admission is free; please bring a lawn chair.
Located at 100 N. Larkspur Drive, Palmyra, Traditions of Hershey is an award-winning community offering independent living and personal care. Apartments are available on an affordable month-to-month lease with no buy-in fees. Resident services include assistance with daily living, meals, housekeeping and laundry, medication management, social events, and transportation. Traditions of Hershey was awarded 2023 Caring Super Stars by Caring.com, 2023 Best of Senior Living by A Place for Mom, and 2023-2024 Best Assisted Living by U.S. News & World Report. For more information about Traditions of Hershey, please call 717-838-2330 or visit www.traditionsofhershey.com.
Making Prayer Shawls & Purses
Look at the beautiful Prayer Shawls & Purses that our residents made! They met with Ron & Bobbi Gildea, who also lead our worship service & Bible study. Ron blessed the prayer shawls & purses, which will be shared with members of the local community.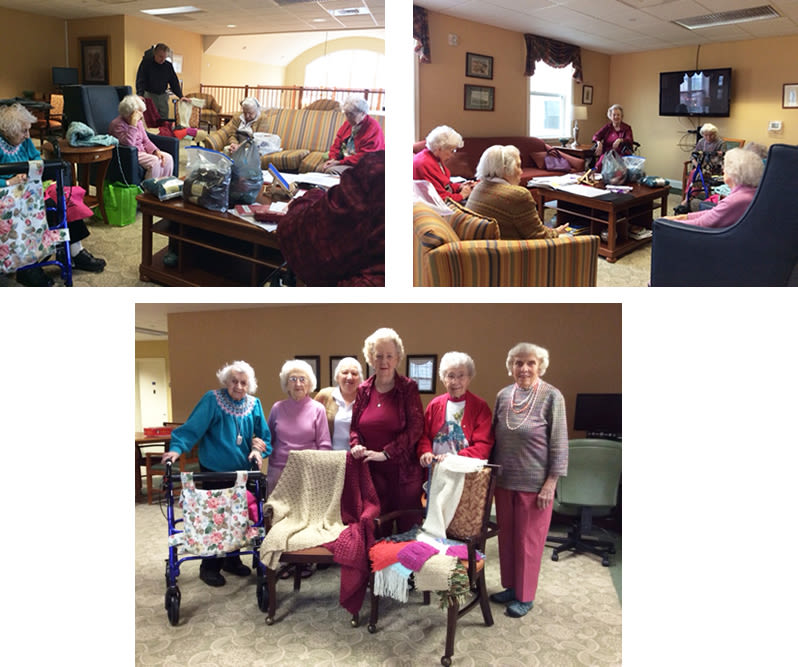 Easter Egg Hunt & Celebration
The Easter Bunny stopped by on an absolutely beautiful day as young visitors enjoyed an egg hunt & coloring contest and residents enjoyed the glorious weather. Some residents were even brave enough to don a Bunny hat and have their picture taken!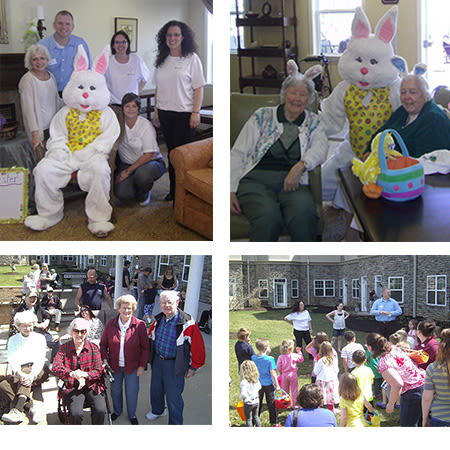 Computer Training for our Residents
Our residents got a hands-on experience with some new technology! Students from the Key Club at Palmyra High School are volunteering for computer training for our residents. They learned how to do different things on the computer, as well as using an iPad.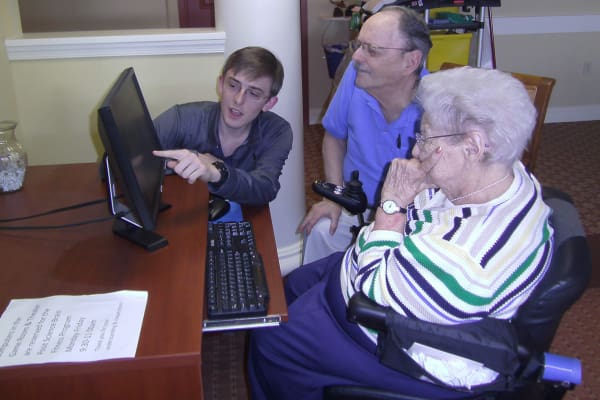 It's a difference you can feel